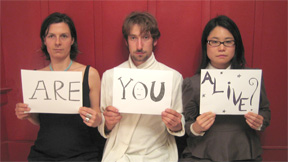 New Project
Locating the Borderlands is an episodic site-specific performance event in which twelve participants will become the protagonists on a heroic journey into the Borderlands of their own psyche. These episodes will occur in public and private spaces throughout the Mission, SOMA and Potrero districts of San Francisco on Sunday May 22nd. Individual episodes will take the form of participatory performances, interactive installations, social interactions and improvisatory happenings. Participants will be issued passports to gain access to each episode. Their movements through physical locations will correspond to different psychological realms. Each realm has it's own rules of operation and the participants must try to navigate their way through the shifting terrain. Each participant's journey will last approximately eight hours. A larger audience will be invited to witness and occasionally participate in their efforts. Spontaneous interaction from local residents in public arenas will be invited and incorporated into the public episodes.
For more information, please go to the project page.
Cellspace, 2050 Bryant St. @ 7pm on Sunday May 22nd
You are invited to particiapte as our interactive at the climx of the day.
The success of their journey depends on you. Featuring live music by Dr. Abacus.
Participants Needed
If you would like to be one of the 12 participants in this project, please print and mail in this form.